« Charlotte Delbo's _Auschwitz and After_ | Main | Run, Munchkins, Run--Scarecrow's Got His Gun! »
February 28, 2009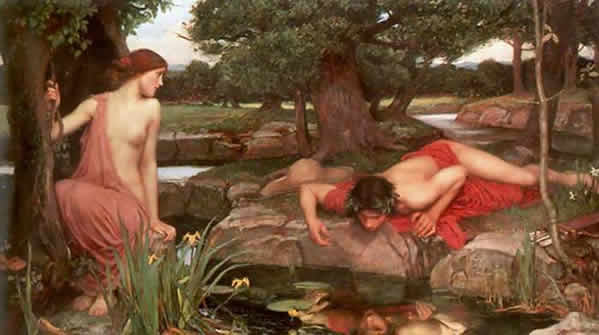 Image Source: http://www.users.globalnet.co.uk/~loxias/waterhouse_echo%2Bnarcissus.jpg
From Katie Ganning:
The death of a loved one is one of the most painful experiences people go through in their life. What makes it the most difficult to cope with is the fact we can no longer speak with them face to face. In Christina Rossetti's poem, Echo, she explains through her dream that she has lost her lover many years ago and her only way of seeing him is through her dreams. In this poem, the author uses her dreams as the contextual symbolism of communication.
According to . . .
. . . Edgar Roberts' text, "Contextual symbols derive their meanings from the context and circumstances of individual works." (Roberts 130). The title itself, Echo, gives you an understanding that the symbolism is communication. In the first stanza, "Come to me in the silence of night" (Rossetti line 1), makes the dream symbolic because she is using the dream to communicate with her lover while she sleeps.
During the second stanza, the second symbol is drawn out which is her communication with him. She talks about how they should be still together and not have to live in two different worlds, "Whose awakening should have been in paradise" (Rossetti line 9). Within the same stanza, she starts to realize that she is only in a dream and comes back to reality. She talks about their "door "(line 11) that has opened to let them communicate is beginning to close. Finally realizing that this is still just a dream, she tells her lover to "Come back to me in dreams, that I made give" (line 15) meaning that they can still communicate and be together even though they are two worlds apart.
Rossetti's poem, Echo, is deep; she seems to want and have a control of her dreams so she is able to communicate with her deceased lover. The first line in the first stanza makes the author sound creepy, but as one continues to read it becomes sad to know she has not moved on from her long deceased lover. Her poem makes her dream symbolic because it is her only way to stay in contact with him, whereas dreams usually one is not able to grasp or have complete control of.
Works Cited

Rossetti, Christina. "Echo." Writing About Literature by Edgar V. Roberts, ed. Brief 11th ed. Upper Saddle River, NJ: Prentice Hall, 2006. 257.

Roberts, Edgar V. Writing About Literature. Brief 11th ed. Upper Saddle River, NJ: Prentice Hall, 2006.
FULL-TEXT of Poem: Christina Rosetti's "Echo"

Come to me in the silence of the night;
Come in the speaking silence of a dream;
Come with soft rounded cheeks and eyes as bright
As sunlight on a stream;
Come back in tears,
O memory, hope and love of finished years.


O dream how sweet, too sweet, too bitter-sweet,
Whose wakening should have been in Paradise,
Where souls brim-full of love abide and meet;
Where thirsting longing eyes
Watch the slow door
That opening, letting in, lets out no more.


Yet come to me in dreams, that I may live
My very life again though cold in death;
Come back to me in dreams, that I may give
Pulse for pulse, breath for breath:
Speak low, lean low,
As long ago, my love, how long ago.


Source: http://www.wsu.edu/~brians/love-in-the-arts/rossetti.html
Posted by lhobbs at February 28, 2009 12:20 PM
Readers' Comments:
Megan McArdle (blogger at the Atlantic) mentions people who study poetry.
Posted by: brushes9 at March 12, 2009 12:34 PM

This weblog is licensed under a Creative Commons License. Some rights reserved. 2006.