« English-Blog Request for Articles and Submissions | Main | Chicklets Anyone? Our Syndication Feeds Here! »
September 23, 2005
"How do I know what I think until I see what I've said?" ~ Winston Churchill
"Hello, hello, hello . . . is anybody out there?
Just nod if you can hear me . . ."
Greetings cruel world,
My name is Lee Hobbs and this is my perfunctory first blog entry for the all-new English-Blog [dot com].
Where else but the internet could you find trite references to Alice Cooper, Pink Floyd and Winston Churchill all in the same place (except for a future Pink Floyd album)?
Just like old Winnie, the internet's top choice for quotation-pulling (besides Gandhi and Einstein) it promises to be smart, savvy, witty, and sometimes funny . . .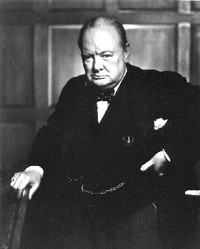 . . . Some of you might know me from my editorial work long ago in days of yore on the ESL Instruct and ESL Expert Newsletters and for my substitute-teacher duties over on ESL-Lesson-Plan blog. Well, the powers-that-be have now conceded to giving me my own special "space" on the web.
Ok, ok, I know it looks kind of "dark" today. I'll be experimenting with the format and layout of this blog for weeks to come until the thing finally find's its "voice" and sense of self-security.
Thanks for being such loyal readers and commenters over on the ESL-Lesson-Plan blog. I hope you'll still visit me from time to time over here.
This blog will try to take on the field of English as a whole. While still keeping one foot in the ESL door, this blog will be free to explore other great areas of the English discipline such as composition, literature, rhetoric and linguistics. There will be sub-categories too, eventually, as you are forced to witness my exploration of genre and theory. Should there be a question and answer category?
It's easy to leave a comment. You can either click here or just scroll down to the bottom where it says "Post a Comment." Easy, huh?
Enough blathering for now. Come back soon as I try to get this wild beast into shape. Happy blogging.
Until then,
Lee
Posted by lhobbs at September 23, 2005 10:03 PM
Readers' Comments:
I do say old chap...this is a rather nicely laid out page. Briallian work and keep up the good work. Mind the gap while your at it!
Sir Farnsworth Bentley
Posted by: Farnsworth Bentley at December 19, 2005 10:22 PM
Great new Blog, Professor "Bloggs". I'm glad I found it, I won't be letting you get away with anything, you know me...Bloggers beware!
Posted by: ESL Nerd at December 19, 2005 10:23 PM
Hi there Lee,
You don't know me but I'm subscribed to your notification list over on ESL lesson plan. I've enjoyed your articles so much I just can't wait to see what you'll come up with on this one where you seem to have a lot more elbow room. Maybe you'll give us a clue into your area of research? Look forward to getting the notifications for this new blog. I'll see if I can get the RSS thing to work on My AOL homepage too.
Bye!
Sweetiepie
Posted by: Sweetiepie at December 19, 2005 10:54 PM
Lee,
This looks very promising, if you don't mind me saying. I'm looking forward to following you onto the higher steppes of English!
Good luck.
Nigel
Posted by: Nigel Fogden at December 20, 2005 12:31 AM
Hi Lee,
Thanks for the nice comment. I am sure that you and I will be up to something one day. I am honestly using my site (mramer.org) right now as an ad to show my skills, and a reference to prosepective employers. I also want it as a way friends can check out what I am up to without having to send out emails. But iteachers.org will be more dynamic and hopefully it will have some resources for teachers out there. Hope you are doing good. Happy Holidays from Arkansas!
-Mahmoud
Posted by: Mahmoud at December 20, 2005 12:47 PM
Leroy,
what's up there hotshot. I done found out about your old sneaky relocation up in here from PD and that jobs forum I like to pester on occasion. Well we'll see if you can try to hold my interest for more than five minutes this time. watch out everybody. that's all.
P.Pete
Posted by: PittsburghPete at December 24, 2005 01:54 PM
Hello Lee,
With sincerest karma I wish you the best of success with your new endeavour. Please feel free to come over and co-post with me anytime at ESL-LESSON-PLAN until the new writer is established. You'll be missed but it's satisfying to know that you'll be over here, easily found.
Good luck!
Michelle
Posted by: MSimmons at December 24, 2005 02:00 PM
-----------
Note from Lee:
Thanks Michelle for the kind wishes. I'll only be one little click away from my usual place in virtual space so don't start missing me yet!
Posted by: Lee at December 24, 2005 05:55 PM
Lee,
On discrimination and the movement to make English the "official" language of the American Empire:
Extract from an article by: IMRAN MUREED
" [ . . . ] To become a naturalized citizen of the United States, our laws require the applicant to demonstrate the ability to read, write and speak simple words in ordinary usage in the English language. Since only citizens can legally vote, there is no need for foreign language ballots.
The Equal Employment Opportunity Commission is starting to label it workplace "discrimination" for employees to be required to speak English on the job and to customers. Nobody has yet calculated the horrendous litigation costs this will impose on small businesses [ . . . ] "
Winston Churchill observed that "The gift of a common tongue is a priceless inheritance." It's our task to safeguard that inheritance. Do you agree or not?
Babu
Posted by: Babu Khan at December 28, 2005 09:20 AM
Lee,
Congrats on your promotion. Though with the headline 'My Worst Nightmare', I'm wondering if I should be sending you a sympathy note. :-)
Alison
P.S. Hey guy, where're your smileys?
Posted by: AMB at January 6, 2006 05:47 AM

This weblog is licensed under a Creative Commons License. Some rights reserved. 2006.